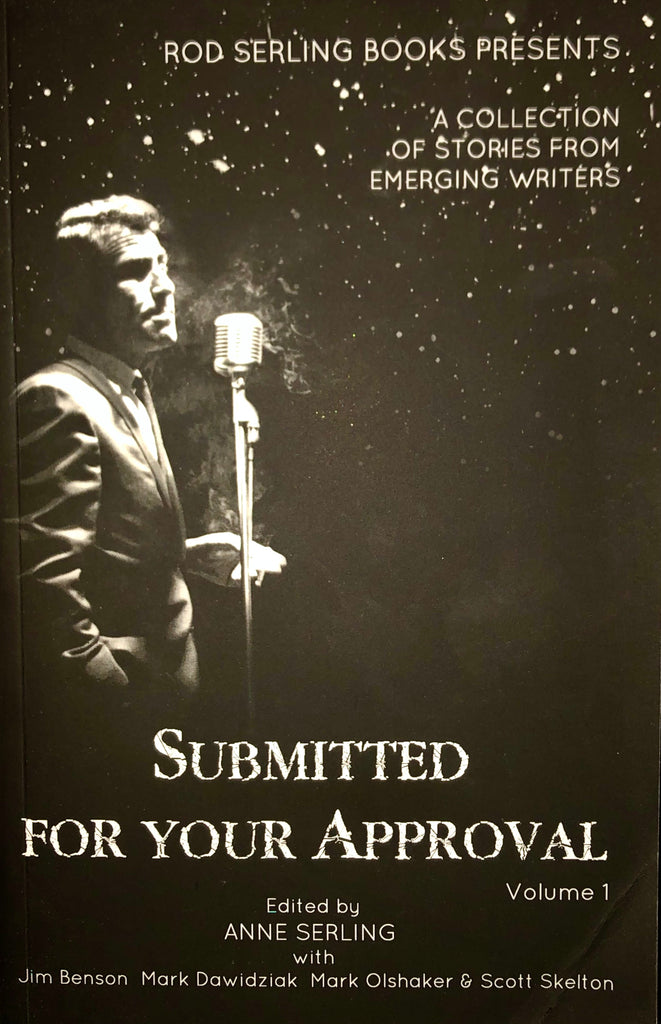 PageTurner Books International
ROD SERLING: SUBMITTED FOR YOUR APPROVAL
Now back in print, the 324-page SUBMITTED FOR YOUR APPROVAL, edited by Rod Serling's daughter Anne Serling, is the first short-story anthology from Rod Serling Books — a collection of works written in the Serling genre or, in the consensus of the editorial board, a story that Rod, himself, would have considered worthy of being included.
As one of the world's foremost storytellers, Serling was primarily concerned with the well-being of humanity and the creation of commentative works of social and moral relevance. It is with this spirit that Mariel Cooksey, James Goertel, Tim Johnson, Sara Jordan-Heintz, Ken Knight, Michael Lizarraga, Lisa Marderosian-Saleski, Douglas Nufer, Terry Persun, Carl Rafala, and Lindy Spencer submitted their works, which vary in length from short-story to novella.
As with Serling's body of work, not all are tales of fantasy. They are, however, very Serling-like in terms of being thought provoking; concerned with the human condition; and fine examples of the art of storytelling. As for the art of storytelling, we were thrilled to affirm that it is so very alive and flourishing. With the publication of this anthology and an exciting new anthology just around the corner, we continue to collect submissions from talented writers around the world; develop new anthology ideas; and most of all, champion writers, without whom the theater, film, television, and publishing industries would cease to exist.
PageTurner Books' own Jordan-Heintz's story "A Day Saved is a Day Earned," is published within the anthology. 
In this story, Renée felt she had slipped into an episode of "The Twilight Zone,"  but Patrick was all too real. And he wasn't going away until she agreed to his demands…

Renée Jackson is an elegant legal secretary living in Cleveland in 1961. When one morning begins with the appearance of a handsome stranger named Patrick, will she trust her instincts and dismiss his fantastic story? Yet, if she doesn't do exactly what he says, he guarantees her she won't be alive at the stroke of Midnight. Renée embarks on a mesmerizing journey through warped time and altered memories, on a quest to confront demons from her past.
Jordan-Heintz is a writer, editor, feminist and 20th century historian. She has written hundreds of articles for newspapers and magazines, many republished through the Associated Press and USA Today Network. She is a recipient of the Genevieve Mauck Stoufer Outstanding Young Iowa Journalists Award from the Iowa Newspaper Association. She is published regularly in Antique Trader magazine.

Her fictional stories have appeared in 101 Words, Red Planet Magazine, 365 Tomorrows, Friday Flash Fiction, The Mambo Academy of Kitty Wang and in the "Brilliant Flash Fiction" 2021 print anthology Branching Out. Her sci-fi/fantasy story, written in the spirit of "The Twilight Zone," —  "The Acquisition of Vidalia Somerset" — will be published in Inkd Publishing's first print anthology Hidden Villains in spring 2022.
Her short story "Sardines" was nominated for the 2021 Pushcart Prize for Best Small Fictions and the Best Microfiction by "The Mambo Academy of Kitty Wang."
She is the author of the classic cinema book Going Hollywood: Midwesterners in Movieland (also available on this website; click CATALOG above to find it), and the author of the new true crime mystery WHO KILLED DOROTHY KILGALLEN? based on the contents of her 2007 Midwest Today magazine article of the same title. This article spawned several other books on Kilgallen by other authors, and mentions in still more books, based on her solid reporting. Jordan-Heintz has expanded the article into a compelling book of her own, with fascinating new details about this crusading journalist's life and death, as she probed the Kennedy assassination.
Sara Jordan-Heintz most enjoys writing speculative fiction, human interest stories and pieces meant to provoke deep feelings and opinions in its readers. 
---
Share this Product